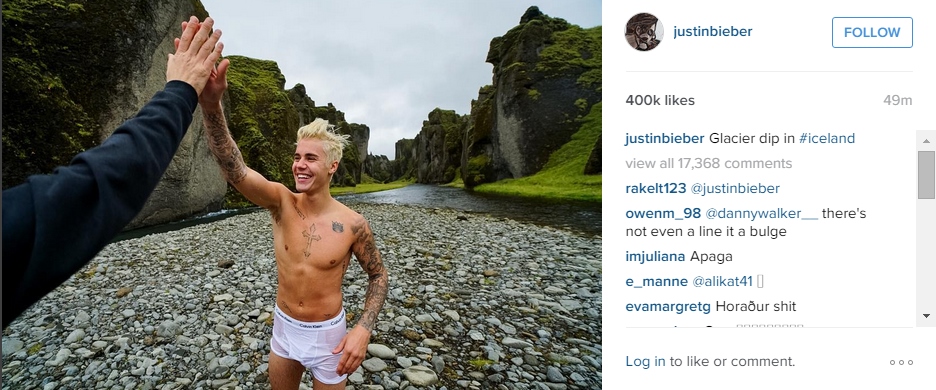 Canadian musician Justin Bieber landed at Keflavík Airport today, Vísir reports.
Bieber drove straight to nearby Reykjanesbær and parked in front of Lemon, a sandwich place.
"Unfortunately, he had no time to eat, but said he might come back later," stated Lemon owner, Jón Þór Gylfason. "He and 15 bodyguards arrived in two huge Mercedes Benz vans. He's clearly here with two friends. They all ran alongside Lemon toward the ocean, where there is a rock wall, popular with tourists." According to Jón, they had cameras and recording equipment.
Once he returned, he was greeted by two Lemon employees. They were allowed to chat with him, but the bodyguards made sure no photos were taken. "He asked the employees what it was like living in Iceland and such. He said he had a stopover here in Iceland and didn't want any photos taken," Jón told Vísir.
Conclusion:
Justin Bieber was in Iceland today, but may well be gone.
He was not hungry.
He wanted a picture of the ocean.
Saying he might be back to Lemon may indicate he's planning another trip to Iceland. It could also simply mean he's polite.
He just posted a picture of himself in Fjaðrárgljúfur, South Iceland, close to Kirkjubæjarklaustur, wearing only his wet, white, Calvin Klein underwear, giving a high five. He appears delighted after a glacial dip. Below is another picture Bieber has posted on Instragram from his trip in Iceland.
Update:RÚV reports Bieber is here to work on a video.
From: //icelandreview.com