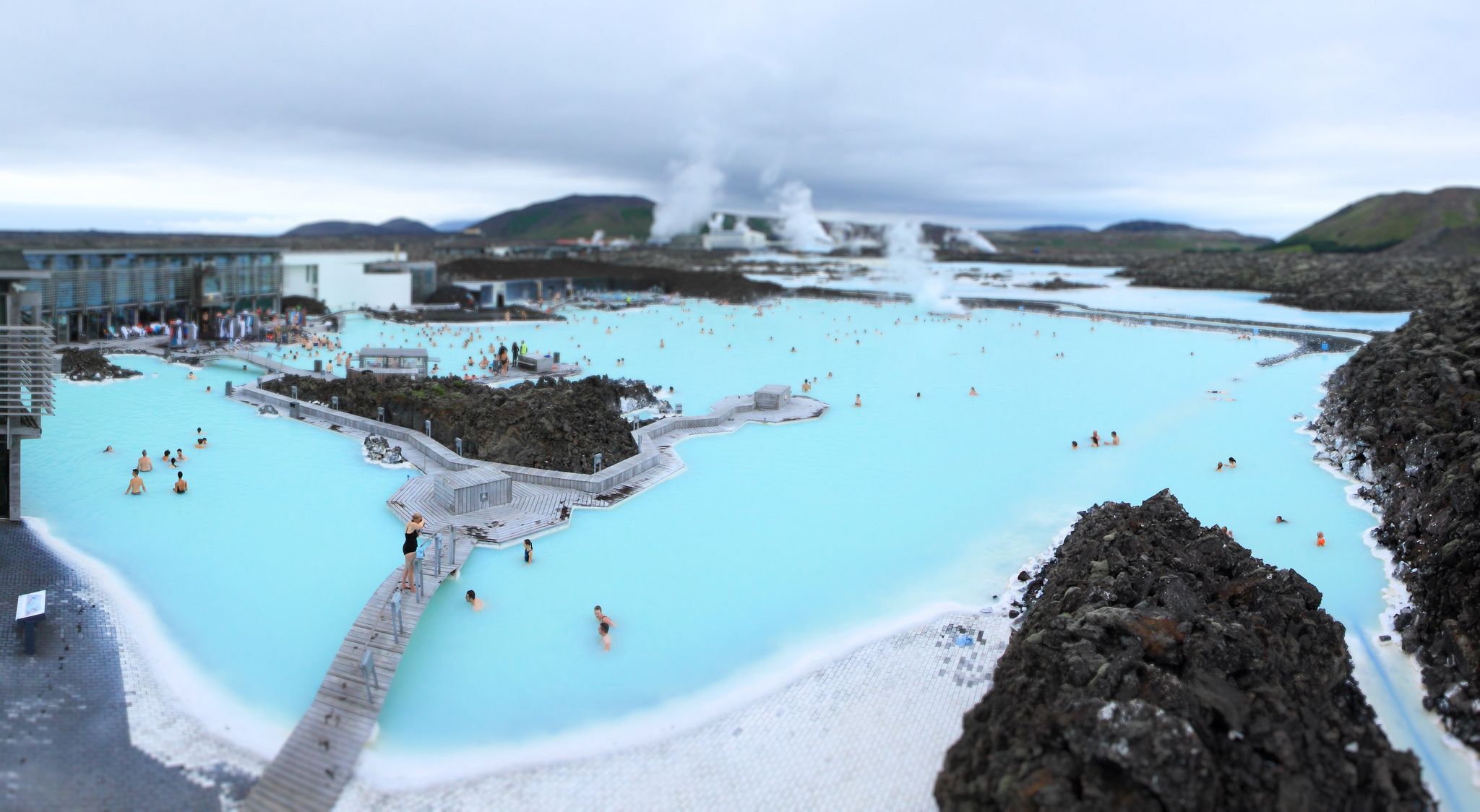 The Blue Lagoon is one of Iceland's biggest tourist attractions. In the Northeast region of the country lies another man made nature bath, Mývatn Nature Baths, also with blue water. Frequent swimmer Dr. Gunni measures the lagoons against each other in Iceland Mag's weekly Versus column.
What is it?
Blue Lagoon Man made lagoon with 6 million liters of 37-39°C hot geothermal seawater. The bottom is made of white silica mud. The lagoon has some underwater benches and caves to sit in. Also pails of the white mud on the bank to rub on your skin. It is good for you!
Mývatn Nature Baths Man made lagoon with 3.5 million liters of 36-40°C hot water. The bottom is made of sand and gravel. Some underwater benches.
What is there besides hot water?
Blue Lagoon Skin care shop, clinic for psoriasistreatment, Lava restaurant and bar.
Mývatn Nature Baths Kvika restaurant.
Background
Blue Lagoon The lagoon was formed in 1976 following the operation of the regional heating corporation in Svartsengi geothermal area. Soon people started to sneak into the lagoon and in 1987 the first first modest public bathing facilities opened. The current spa facilities opened in 1999.
Mývatn Nature Baths The baths opened in 2004, but people had been taking baths and steam baths in the area for centuries.
Distance from Reyjavík
Blue Lagoon 45 km
Mývatn Nature Baths  487 km
Admission fee (Okt 2015)
Blue Lagoon Adults: 35 EUR / Teenagers 14-15 years old: 15 EUR
Mývatn Nature Baths  Adults: 19 EUR / Teenagers 12-15 years old: 1.000 7 EUR
Opening hours
Blue Lagoon June – Aug 09:00-21:00 / Sept-May 10:00-20:00
Mývatn Nature Baths June-Aug 09:00-24:00 / Sept-May 12:00-22:00
Annual number of guests
Blue Lagoon More than 400,000
Mývatn Nature Baths Less than 100,000
Websites
Blue Lagoon bluelagoon.com
Mývatn Nature Baths jardbodin.is
Experience
Blue Lagoon After clever marketing for a long period the Blue Lagoon has become one of Iceland's most famous landmarks. It is close to the Keflavík airport and Reykjavík so it may become very crowded during peak season. Due to it's pricy admission fee The Blue Lagoon is not much visited by regular Icelanders. But still: it is an unusal and otherworldly place, that lives up to it's legend. Plus, soothing in hot water is always good!
Mývatn Nature Baths The Mývatn baths is more intimate than the Blue lagoon and not as touristic. On the other hand, it is smaller and less picturesque, even though the landscape view is very nice. It is of course further away from Reykjavík and the airport and it is yet to earn its'"must do" status. Still, soothing in hot water is always good!
From: //icelandmag.visir.is