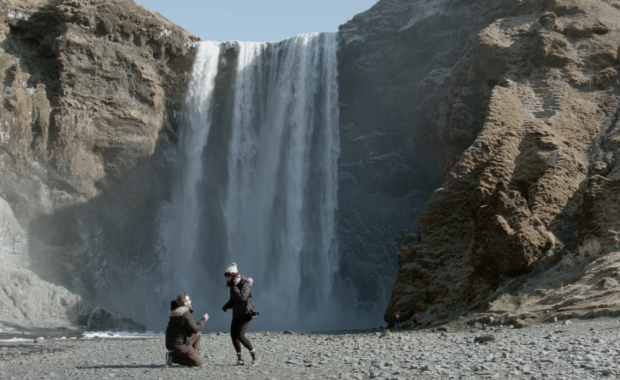 The delicate flora of Iceland and the dramatic landscapes can make Icelandic nature very romantic, a fact which the growing Icelandic wedding-planning industry has taken full advantage of. But now a romantic video of a 2015 winter road trip by an Irish couple to Iceland shows that Iceland can be quite pretty and sweet, even during the bleakest and coldest months of winter.
On Christmas Day 2014 Neill Morris' (25) fiancée Orla O'Neill (23) gave him a surprise Christmas present: A 7 day trip to Iceland. Neill tells us he has always felt he had some kind of connection to Iceland, all his favourite bands are Icelandic and that he has always wanted to come here. "I was already planning on proposing to Orla, but when she got us the flights to Iceland I knew that's where I had to do it.":
I knew exactly where I wanted to propose. It had to be Skógafoss waterfall. I kept the entire proposal hidden from everyone including both our families.  I didn't want word getting out to Orla, I wanted it to be a complete surprise.
Neill is a filmmaker and Orla is a photographer who run a wedding photography and & film company called Paper Sails, so it made perfect sense to create a short movie about the trip, giving Neill the perfect cover to film the surprise proposal.
The two made their trip in early May, when the days are already very long, but the weather can still be pretty cold and nature has yet to really wake up after the winter.
We saw some amazing things such as the Golden Circle, The Great Geysir, all the many different waterfalls. Our favourite being Skógafoss for obvious reasons. We also visited some amazing little towns on our travels, our favourite was Vik. It was so picturesque and had a very homey feel to the town. It also had one of the most beautiful black sand beaches we had seen.
It was on our third day in Iceland, the day that I had been waiting for. Today was the day I was going to ask Orla to marry me. When we got to Skógafoss my heart was pounding out of my chest, I was incredibly nervous, but I knew I had to pretend that today was just any other day. I told Orla that I wanted to get some shots of her walking towards the waterfall and then I wanted one of us standing in front of it. So I set the camera up and we got ready and I told her we will throw our hands into the air. After we did one take I told her I wanted to do it again. So we got ourselves ready and I counted down from 5 and when I got to 1 Orla threw her arms into the sky and I went down on one knee. She didn't know what was happening at first, then as you can see in the video her knees start to give. She said yes!!! There was one other tourist who had seen the proposal who was standing clapping and cheering us.
From: //icelandmag.visir.is