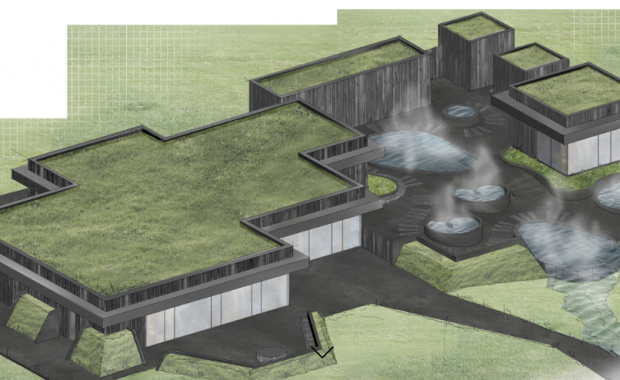 Here is a pretty remarkable fact. If you take a shower anywhere within a 65 km (40 mi) radius of Deildartunguhver hot spring in West Iceland, you have already bathed in it's hot water.
Later this winter you will, however, be able to dip in Deildartunguhver's geothermal water on location with brand new baths being under construction just 70 meters (230 ft) north of the natural hot spring.
Deildartunguhver is located in Reykholtsdalur valley and is the highest-flowing hot spring in Europe, pumping up 180 liters (47.5 US gallons) per second of 97 degrees C (207 F) hot water.
For scale it would fill an Olympic size swimming pool in less than four hours. Such a pool features 10 lanes, is 50 m (164 ft) long, 25 m (137 ft) wide and 2-3 m (6.5-10 ft) deep.
Some of this enormous amount of close to boiling hot water is used for central heating in nearby towns, by being piped 34 km (21 mi) to Borgarnes (population 1.800) and 64 km (40 mi) to Akranes (population 6.700). When the water reaches its destination in Akranes it is about 78 to 80 degrees C (167-176 F) hot.
The new nature baths are called Krauma and will feature hot tubs (outdoor), saunas and a tranquility room. A heated walkway to Deildartunguhver will provide an easy access during the winter months.
You can keep track of the construction via this webcam.
From: //icelandmag.visir.is/