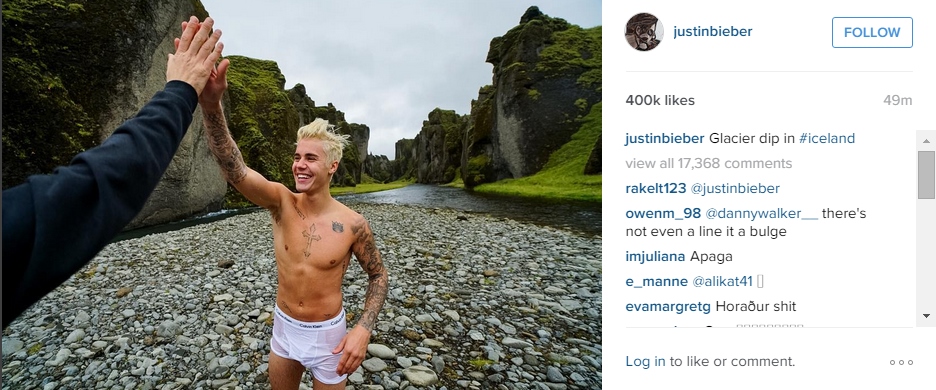 Justin Bieber's new music video "I'll Show You", which was shot entirely in Iceland during his visit in September is getting rave reviews. When this is written it has been viewed almost five million times in less than 24 hours. Many commentators on Youtube, where the video is hosted, are blown away by Iceland's landscape, with one asking "Places like this actually exist?l" and another "That's one beautiful place I tell ya where is it?!"
The video was shot at numerous locations along the south coast, here we take you through the exact locations. Maybe you can follow in Bieber's footsteps one day. See names of each place below and locations on the map.

Opening scene
Fjaðrárgljúfur canyon
Waterfall
Seljalandsfoss waterfall, 60 metres (200 ft) high, drops of the former coastline of Iceland, at the Eyjafjöll mountain range.
Running
On the plain in front of Seljalandsfoss in the Eyjafjöll mountain range.

Seljalandsfoss again
Yes, you can hike behind the waterfall.

Canyon again
Fjaðrárgljúfur canyon.
Bathing
In the ice cold Fjaðrá river (3-4 C/37.4-39.2 F)
On the beach
The magnificent volcanic black sands of Sólheimasandur beach, seen from Dyrhólaey peninsula.
Waterfall
Skógafoss waterfall, 60 m (200 ft) high and 25 m (82 ft) wide. Also located in the Eyjafjöll mountain range. It's one of Iceland's biggest waterfalls.

Skateboarding
1) On Iceland's Ring Road (Route 1), Eyjaföll mountain range can be seen in the background.
2) On top of the remains of the crashed US Navy Douglas Dakota DC 3, which sits abandoned on the black sands of Sólheimasandur beach.

Rolling on moss
You can do that almost where ever you like in Iceland; usually only a few meters from the highway.

Running
On the grass plains between the former sea cliffs that are Eyjaföll, and the beach.
Icebergs
At Jökulsárlón glacial lagoon on the south coast. The lagoon is located below Vatnajökull glacier, Europe's largest ice cap. The temperature in the lagoon is around 1 C (33.8 F)
From: icelandmag.visir.is
On our Jökulsárlón Tour we cover the musics video locations.