A glacial outburst flood has begun in Skaftá river, South Iceland, according to the Facebook page of the Icelandic Met Office. The ice cover over the Eastern Skaftá Cauldron subsided last night and continues to do so at an increased rate. Glacial outburst floods from the Easter Cauldron are generally larger and occur more rarely than those from the Western Cauldron. Such a flood last took place in June, 2010.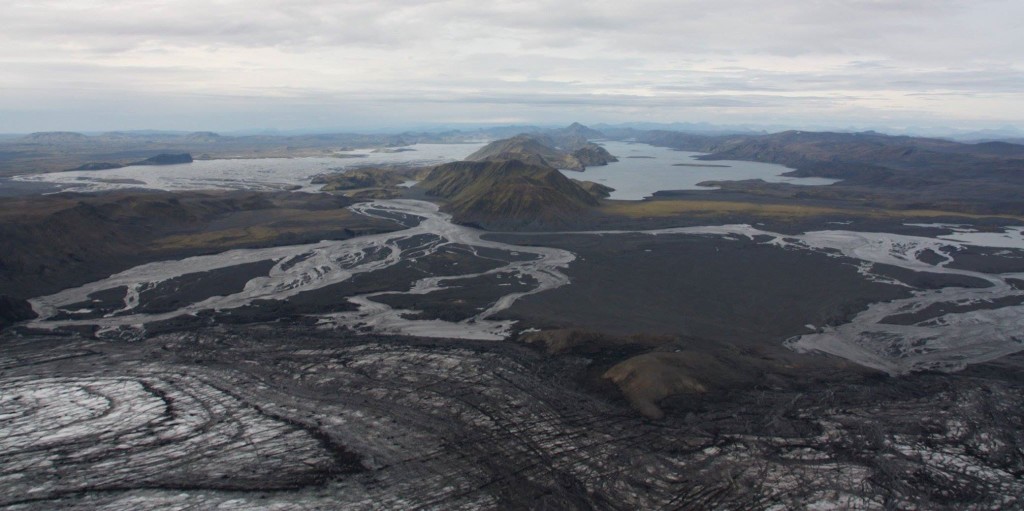 Glacial outburst flood, Skaftá river, 2010. Photo: Jórunn Harðardóttir.
Update: from mbl.is: The flood is still under the glacier and hasn't surfaced yet. The flow of water is expected to reach 1.300 to1,400 m2 per second when it reaches the first observation station of the Icelandic Met Office.
Meetings are underway at the Met Office, where the situation is being assessed. An announcement is expected later today from the Met Office and from the Civil Protection in Iceland.
A glacial outburst flood has never before been detected at such an early stage. What makes it possible is a GPS device located on the ice sheet.
Snorri Zóphóníasson, geologist at the Met Office, reports that we can expect the flood to peak by the Ringroad within 48 hours.
Update:
The National Commissioner of the Icelandic Police in association with the District Commissioner in South Iceland declared an Alert Phase yesterday due to the fast rising flash flood in Skaftá glacial river which began yesterday and will continue for several days.
According to the Icelandic Met Office, much uncertainty surrounds the size of the flood and the area affected by floodwater. Travelers are advised to stay at a good distance away from the rivers Skaftá and Hverfisfljót.
Alert Phase means that if hazard assessment indicates increased threat, immediate measures must be taken to ensure the safety and security of people in the area, as explained in a press release from the Civil Protection Department.
This is done by increasing preparedness of the emergency and security services in the area and by taking preventive measures, such as restrictions, closures, evacuations and relocation of inhabitants.
The public will be kept informed: the authorities will provide advice and issue warning messages if necessary.
Skaftá originates in Skaftárjökull, an outlet glacier of Vatnajökull in South Iceland near Kirkjubæjarklaustur. Click here to see a map of the area.
From: icelandreview.com